Categories of Products
Automotive Lubricants
fully synthetic, semi-synthetic and mineral based
Marine Lubricants
Marine and power plant diesel engine lubricants
Speciality Products
gear oils, atf oils, grease, coolant, brake fluid, compressor oils
Industrial Lubricants
hydraulic oils, air compressor oils, turbin oils, gear oils
Lubricants
The substance used between contact surfaces of moving parts to reduce friction and to dissipate heat is termed as lubricant. A lubricant may be oil, grease, graphite, or any substance—gas, liquid, semisolid, or solid—that permits free action of mechanical devices and prevents damage by abrasion and "seizing" of metal or other components through unequal expansion caused by heat. In machining processes (e.g. UNICORN automotive lubs) lubricants may also function as coolants to forestall heat-caused deformities.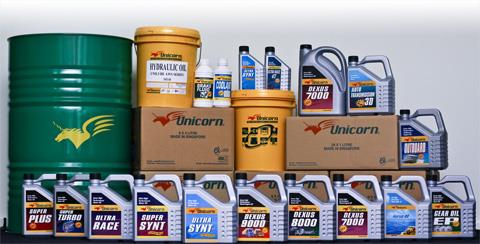 Our Strategy
Unicorn Oil Company's plant (HQ) sited in Singapore is a hallmark for the UNICORN brand lubricant business and also engages in third party blending and packaging services using raw materials and formulation as provided by the customer.
In Unicorn, we are fully aware of the changing markets and have become increasingly complex and competitive. It is our commitment to continuously invest in skills, technology, facilities and manpower to keep abreast of these changes. Our success relies importantly upon strategic business alliances with our agents, distributors, business partners and customers. At Unicorn, we have touched the future with great confidence and anticipation.


Visit another good product from unicorn at http://www.novasyn.com.sg
Product Certifications
The UNICORN range of products also proudly display the API and JASO Certifications besides which they have also received endorsement from world class automobile manufactures such as Porsche, Volkeswagon and BMW.
As an added compliment, Mercedes Benz has announced Unicorn's Ultrasynt in its list of approved lubricants (Multi-grade Engine Oil Specification 229.1 Document no.BB00.40-P-0229-01A) that meet their highly stringent standards for usage in their engines.
Our products have thus met or exceed the requirements laid down by API in conjunction with the Society of Automotive Engineers (SAE) and the American Society for Testing and Material (ASTM).